Tennessee food ministry serves one thousand weekly
by
| 20 Mar 2020
画像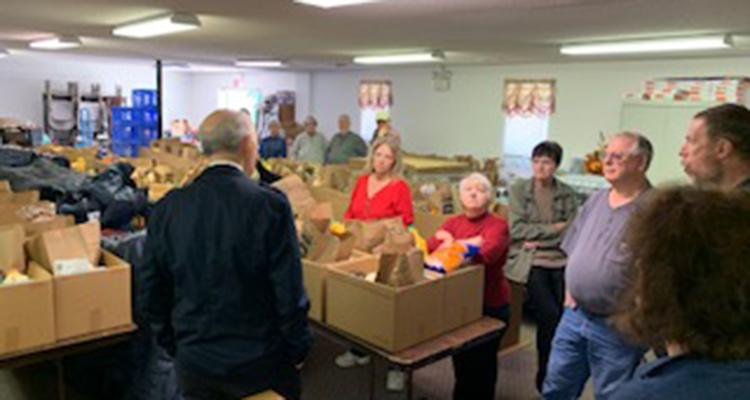 Tullahoma, Tennessee – Westside Church of the Nazarene's Family Food Ministry has been open since February 2019. In just over a year, this church of 40 people has grown the ministry to serve over 1,000 people weekly in Tullahoma, Tennessee.
"We just wanted to be able to do something to show that we love Jesus and help the people," said David Statum, one of the co-founders of the ministry. "We started finding ways to collect food and really grow into something big."
As things are rapidly changing with the coronavirus pandemic, the Family Food Ministry is taking steps to ensure the safety of those who still rely on the ministry for assistance. They've mandated proper social distancing protocols when people come to get food, and volunteers sanitize the shopping carts after each person uses them. In the event that someone who needs the ministry's assistance doesn't feel safe to leave their house, they are delivering the food to them.
The Family Food Ministry has picked up partners across Tennessee and even beyond as they've paired up with Midwest Food Bank in Illinois. 
Recently the ministry gave away 75,000 pounds of food to those in need in their community, and at Christmas, they gave away nearly 500 turkeys.
"Everybody gets a shopping cart full of groceries, and it's good stuff," Satum said. "I don't give away food I wouldn't want to eat. We try to give away the very best we can get."
Tullahoma, located on the East Tennessee District, sits near an Air Force base that provides many blue-collar jobs for a largely working-class population. But, on the south side of the city, the average income per household is nearly cut in half. Nearly 1/5th of the population lives below the poverty line.
The ministry uses 50 volunteers a week to process food that's donated or food they pick up from food banks and grocery stores. Recently, a woman who had lost her job at Wal-Mart came to get food from the ministry to help make ends meet during a time of need. Out of gratitude, she now helps the ministry.
"She has made it her ministry to get food from the food bank every week, take it home, and cook it, and feed everybody who volunteers every week," Statum said. 
The volunteers "grind" when they come to help, according to Statum. The ministry recently received 10,000 pounds of fresh-picked green beans as a donation. Thanks to the volunteers, they were able to process, clean, and bag them by hand all in an hour. 
Statum says that it's not just church members that help out. There are other churches in town that send people, even some non-believers that just want to help make an impact in the community. 
"It's just kind of cool to me that food is bringing people together in our community, and it's people who traditionally wouldn't be together," Statum said. "It's been amazing how it has changed our community, changed our church culture, and brought all of us together."
The Family Food Ministry hopes to become a compassionate ministry center in the near future. After being on the verge of closing, Westside Church of the Nazarene has seen their weekly attendance nearly double in the last year since opening. 
"When people come there, they say they really feel the special love of God and that they've never felt that before," Statum said.