Pastors grow at conference in Mexico
by
| 20 Feb 2020
Image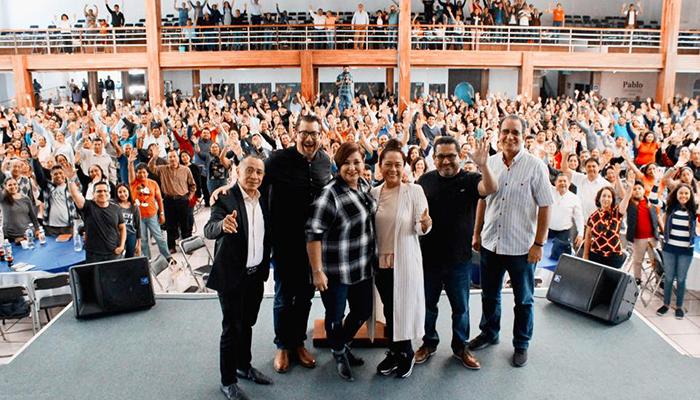 More than a thousand pastors and leaders participated in the International Congress of Pastors, hosted by the Northeastern Oaxaca District in Mexico. More than 250 Nazarene churches in Guatemala, Costa Rica, the United States, and Mexico were represented. The congress was held at the Church of the Nazarene Center of Praise and Proclamation (CAP) from 23 to 25 January 2020.
Conference speakers included Chris Richards, pastor of Iglesia Nuevo Vino in El Paso, Texas; Adalberto Herrera, pastor of the House of Prayer Church of the Nazarene in Cali Colombia; CAP Pastor Elías Betanzos; and Rubén Fernández, rector of the Seminario Nazareno de las Américas in Costa Rica.
Through the sermons, attendees were motivated and challenged to seek God purposefully and to have sincere intentions regarding ministry. In addition, Wesleyan principles of leadership were taught, which Rubén Fernández said are still valid today to be a living church.
The praise was guided by CAP's praise ministry, including singer Beto Quintero and IDN Band 28:19 of IDN Etla. On Friday night, there was a service of prayer and healing led by Pastor Herrera.
"Pastor Adalberto Herrera was used by God," said Pastor Barrera, an attendee. "It was a time where the Holy Spirit did powerful things, miracles and healing."
Attendees also heard testimonies of pastors who shared how the growth principles of the Barnabas Initiative have helped them obtain spiritual and numerical growth in their congregations. 
"The experience I had of sharing, listening and seeing the miracles of the Lord with brothers and sisters in Oaxaca have left me with a clear teaching and a great challenge for my life and ministry," said Sirlene Bustos, superintendent of the Costa Rica Central District.
"[During this time] I was able to listen, share and witness God's miracles. That experience left a clear challenge in my life and ministry. God doesn't have favorites; He moves in the hearts of those willing to serve, take risks, surrender all, and those who have passionate hears to take the message of salvation. [He calls] men and women who are not afraid of change but are open to whatever God wants to do in the lives of people in a supernatural way. God works in supernatural ways. We serve the one and only God who is able to reward that which cannot be paid back, heal the incurable, and do the impossible."