30th General Assembly worship service plans
by
| 17 Mar 2023
圖片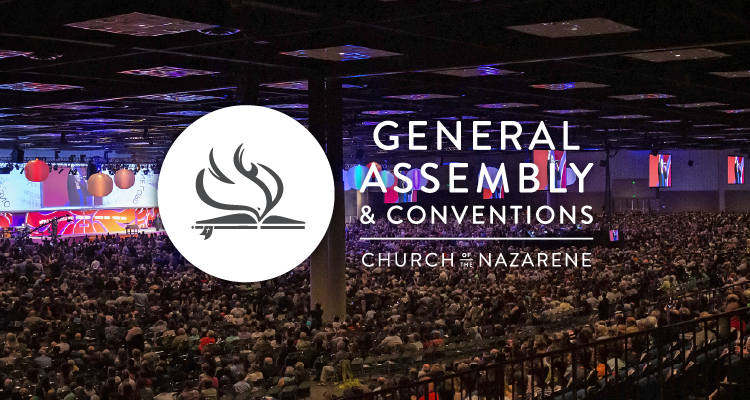 In less than three months, Nazarenes from around the globe will convene in Indianapolis, Indiana, USA, for the first worship service of the 30th General Assembly and Conventions.
Under the theme of "Jesus is Lord," Nazarenes will gather beginning 9 June for five corporate worship services and the quadrennial address.
"Whether participating in person or online via the live stream, the worship services during the General Assembly will be inspirational and will challenge us to live more fully into our mission of making Christlike disciples in the nations," said General Secretary Gary Hartke. "We are looking forward to an amazing gathering of Nazarenes."
A live stream option will be available for those unable to join in person. The live stream will have translation options for English, Spanish, Portuguese, French, and Korean.
Music will be led and directed by Nick Robertson, worship pastor at Bethany First Church of the Nazarene in Bethany, Oklahoma, USA.
Each service will have a specific theme with a message delivered by one of the six general superintendents. 
The service schedule and times are as follows*:
Friday 9 June – 6:30 p.m.
Theme: "Go" — Missions Focus
Speaker: Eugénio Duarte
Highlight: Parade of Flags
Saturday 10 June – 6:30 p.m.
Theme: "Follow" – Discipleship Focus
Speaker: Gustavo A. Crocker
Sunday 11 June – 10 a.m.
Theme: "Worship" – Worship Focus
Speaker: David W. Graves
Highlight: Communion
Sunday 11 June – 6:30 p.m.
Theme: "Share" – Evangelism Focus
Speaker: David A. Busic 
Monday 12 June – 10:30 am
Theme: "Live" – BGS Quadrennial Address
Speaker: Carla D. Sunberg
Monday 12 June – 6:30 pm
Theme: "Love" – Compassion Focus
Speaker: Fili M. Chambo
In addition, GA Kids will feature services for early childhood and elementary children and an intergenerational worship service. The GA Kids services will run concurrently with the evening services Friday, Saturday, and Sunday. 
To learn about the 30th General Assembly worship services, GA Kids, and more, click here.
*NOTE: All service times are listed in Eastern Time (UTC-5:00).