Romania woodshop helps provide jobs for local residents
by
| 01 Jul 2021
圖片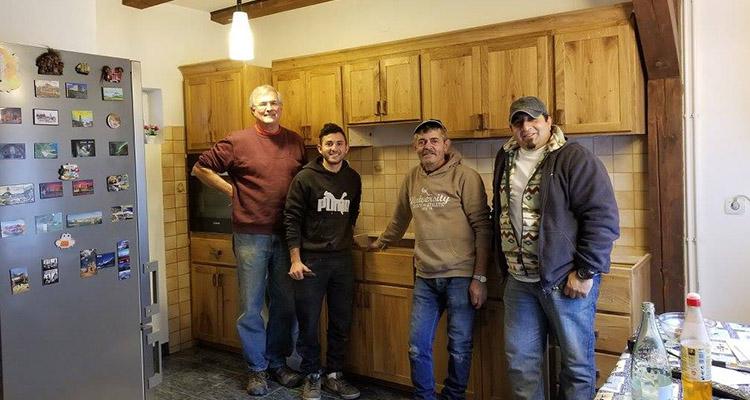 Jay Hartzler, a retired teacher who moved with his wife to Romania as a volunteer missionary, has turned his longtime summer hobby of doing custom woodwork projects into employment for people in a Romanian village where work is hard to come by.
Hartzler got involved when Magda Cini, pastor of Tigmandru Church of the Nazarene, mentioned that they had dreamed of starting a woodshop for years. After a year of language study and getting to know the church, Jay and his wife, Sheri, began to plan to open a shop in the village.
The Tigmandru church set up a nonprofit called Ateliere Nazarineanului or Nazarene Workshops so they could hire people and sell items separate from church activities. Through Ateliere Nazarineanului, they were able to help provide job skills and income to men in the village. Tigmandru is a small village that is currently in a job shortage. Practical vocational training is a priority for the church, whether through sewing, farming, or now woodworking. Cini is passionate about engaging the community and meeting their physical needs as well as spiritual.
Jay oversees the leadership of the enterprise by marketing, drawing plans, teaching, and supervising the work. He has seen success in business as well as connecting with people. After striking up a friendship with a tour guide in the nearby town of Sighisoara, Jay invited the tour guide to the homes of clients to make introductions and help with translations when needed. Many times, several trips were needed before the order was made. Meetings often included meals, drinks, conversation — sometimes in two or three different languages — and an opportunity for sharing the gospel. In this way, ministry is done both in making furniture and selling it.
"We are grateful to God not only for orders for furniture but for friendships that have been formed among the workers and between Jay and the clients," said the Hartzlers. "We are thankful for safety, for the ability to teach and learn new skills, and for the opportunity this shop has been to be a light in the community."
The workshop began in 2015 with three men from the community and quickly evolved from making basic storage structures to custom furniture — including outfitting a new AirBnb in Sighisoara — and restoring traditional pieces. The beginning of the process was not easy; though they had a location for the shop established behind the church, they had to repair and renovate. Some of the initial building construction was done by hand and with a horse and cart.
Jay and Sheri came to Romania in 2013 for a year of work as Nazarene Compassionate Ministry volunteers. They have been there since. Besides their work in the woodshop, they also lead choirs in the community, help with music in Sighisoara and Tigmandru, and help lead a kids' club in Tigmandru.