Germany, South Africa Nazarenes unite for community outreach
by
| 13 Sep 2023
画像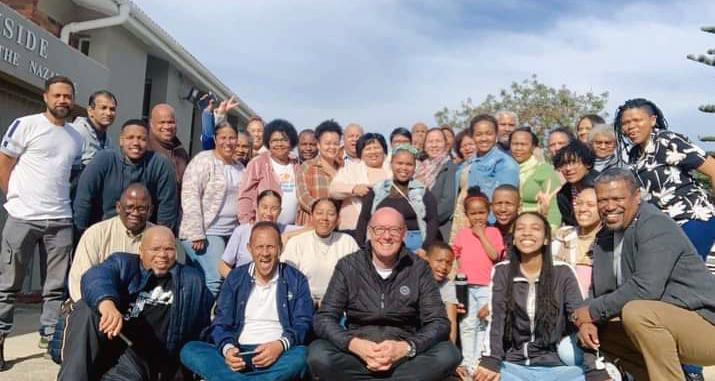 A team of Nazarenes from Germany joined with local members in South Africa to engage in community outreach in the city of Gqeberha, South Africa (formerly known as Port Elizabeth). 
The team included participants from the Republic of South Africa Gauteng District and the RSA Eastern Cape District. Their goals were to spread the good news of Jesus Christ, create an opportunity for local churches to "walk across the street" to their neighbors, and generate passion in the hearts of young people to start ministries in their spheres of influence, including schools.
The team was able to minister through a KidzFest at Sapphire Road Primary School in Booysens Park with over 320 kids in attendance. The children heard the Word of God in a fun and engaging way through songs, games, and other activities.
Through a much different form of ministry, the team could serve the residents at Indlela Mental Health Huis Herberg in Hillside by conducting a ministry of presence as they listened to the stories of the residents and played games with them.
During the team's visit, the Eastern Cape District NYI gathered for a Youth Fest. For three years, the pandemic had kept the district youth from meeting together. The young people were immersed in the Bible, passionate worship, and more fun. Pastor Jana and the team from Germany and the Gauteng District challenged the youth with various powerful messages. 
Some young people surrendered their lives to Jesus and made lasting memories. 
"As the week went on, I began to realize how much we had missed out on through the pandemic," said Samantha Titus, Eastern Cape District NYI president.
Additionally, Dawie de Koker conducted leadership training for the pastors and spouses of the Eastern Cape District. The topics included the real job of the pastor, mission shift, post-modernity, the concept of "crossing the street," and the five levels of leadership. 
Each pastor's thinking was challenged, and they were all engaged in meaningful conversations with one another, discussing and evaluating where the local church stands particularly post-COVID-19.
A vibrant District Rally capped off the team's time in the Eastern Cape with a challenge from de Koker for those present to be salt and light in their communities, families, and the marketplace. He invited the audience to commit themselves to be this driving force wherever they find themselves. 
"The atmosphere was truly amazing," said Eastern Cape District Superintendent Randall Julie. "A tangible presence of the Holy Spirit was indeed felt as we worshipped, prayed, experienced the preaching of God's Word, and responded to His move in our midst."
One of the team's goals was to help find a balance between reaching new people and building up those who have already been reached while moving forward with purpose and continuing to be the church that God has called us to be. 
--Church of the Nazarene Africa Region