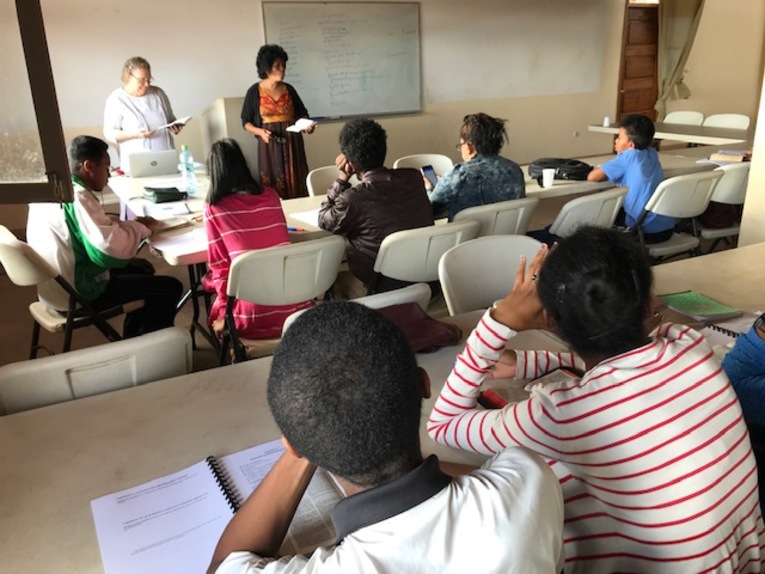 Theological Training Indian Ocean Field
Giving Code: 133305
Region: Africa
Area: Africa
COST (USD$): 8,800
Description:
The Indian Ocean Field is a newly established Field, since 2017 on the Africa Region. The holistic development of the Field, depends largely on the training, equipping and developing of all the members of the Church of the Nazarene on this Field. The only area currently with organized Churches is in the country of Madagascar. As a new Field, we need experienced Theological Educators to assist in training, equipping and teaching all the existing Elders and the current Pastors in training. A proper foundation needs to be built with experienced Theological Educators that has a track record in this field. All the current ordained Elders also need to be trained and equipped to plant and develop their existing Churches. From December 17th, 2018 until January 9, 2019, we had 61 students trained by Rev. Cheri Kommel, which is the beginning of equipping and training our new leaders for ministry. Three courses and exams were completed. Our new Pastors are all in training and will be given new assignments by the District Superintendent to plant 27 new churches as a goal for 2019/2020, in Madagascar. There are 6 provinces in Madagascar, which is further divided in 22 areas. In 20 years, the Church is only in 3 provinces and we just entered our 4th area, Mahajanga in August 2018 in compliance with our missional strategical plan. We are only in a few areas, mostly in Antananarivo, which has 16 local Churches. This ongoing theological training project will assist the Indian Ocean Field to teach sound Wesleyan Biblical doctrine. This project is crucial to the development of Theological education on the Indian Ocean Field.
Make A Donation
WYSIWYG Content
Donate by Check:
In the US:
Make checks payable to General Treasurer and send them to:
Global Treasury Services
Church of the Nazarene
P.O. Box 843116
Kansas City, MO 64184-3116
In Canada:
Make Checks payable Church of the Nazarene Canada and send them to:
Church of the Nazarene Canada
3657 Ponytrail Drive
Mississauga, Ontario L4X 1W5.
Be sure to put 133305 in the Memo area. Thanks for your donation.