Women's Discipleship Ministries Gather at General Assembly
By Kalyn Voglemann, USA/Canada Women's Discipleship Ministries Chair | 14 Sep 2023

General Assembly 2023 was a wonderful way for Nazarene women to connect. The USA/Canada women's discipleship representatives enjoyed all the ways we gathered and greeted one another through our booth, worship gatherings, workshops, or spontaneous meetings in the halls as we celebrated our bond of love in God. We began the assembly with a constant flow of visitors to our booth, Nazarene Women of Grace on the Journey Together.
The Women's Discipleship Ministries booth highlighted the history of Nazarene women serving their church and communities since the denomination's inception in 1908. We took photos of Nazarene women from the past and paired them with descriptions of women today and the ways they are still loving and serving the Lord by journeying grace upon grace with those around them. For "from the fullness of His grace, we have all received one blessing after another" (John 1:16).
We snapped dozens of photos of the women who represent Nazarene Women's Discipleship around the globe, which was certainly a highlight. We spent our time at GA networking about our core principles and how we implement them in our districts and local churches.
Encountering God through prayer and the Word

·     

Multigenerational, intentional relationships

Leadership development 

Compassion 
On Friday afternoon, we celebrated being together with a sacred worship time listening to Pastor Jenee Noriega's remarkable journey of grace in addition to singing with worship leader Kasey Brown. Director Kalyn Vogelmann walked us through our history as Nazarene women and encouraged us to say "There are the days!" Nearly 200 women gathered, making a beautiful sound for the Lord as they sang and were inspired by the spiritually rich history and future we share together.
On Saturday, the women's discipleship workshop was packed with women from all six world regions who were ready and willing to enhance their understanding of NDI's five core discipleship principles:  
Fervent Prayer
Compassionate Outreach
Comprehensive Biblical Learning
Intentional Mentoring & Equipping
Authentic Relationships
The excitement of chatter in the room from the groups was captivating. There were no strangers there—they already knew they are better when they journey together!
The inspiration picture for our group at GA came from this photo on display at the GMC of the Girl's Gospel Team in China ready to ride with the evangelistic flags and the women behind them supporting them.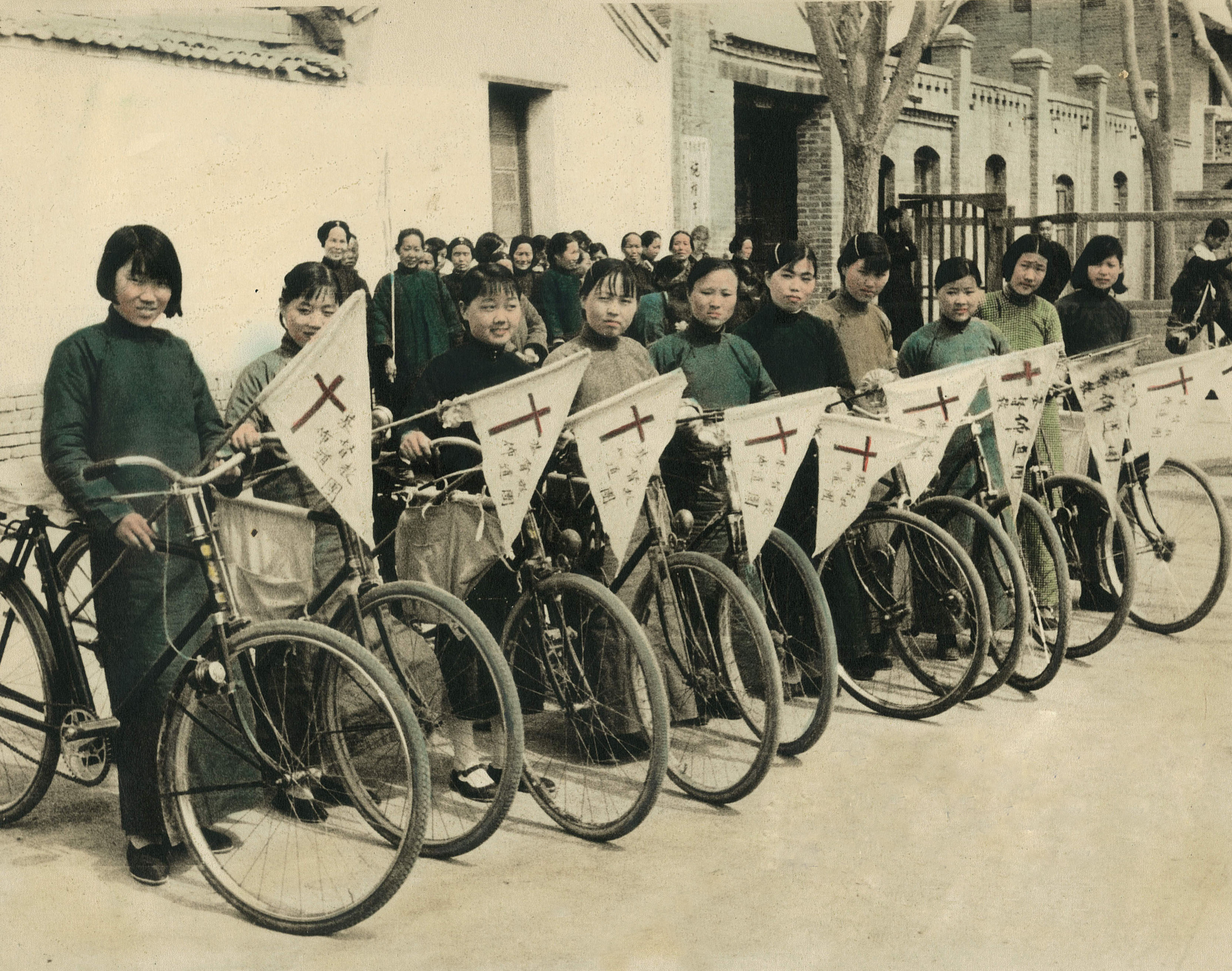 All weekend, many women came to the booth to get a picture with the bike and hold a similar flag a team member had made from their world region to symbolize their commitment to Jesus to stay on the path of this journey of grace together with others along the way.
Our gathering at GA was joyful and fruitful, and all left feeling inspired and hopeful, for these are the days to continue this beautiful journey of grace together.
---