Puerto Rico district hosts Encuentro 2022
by
| 21 Jul 2022
Image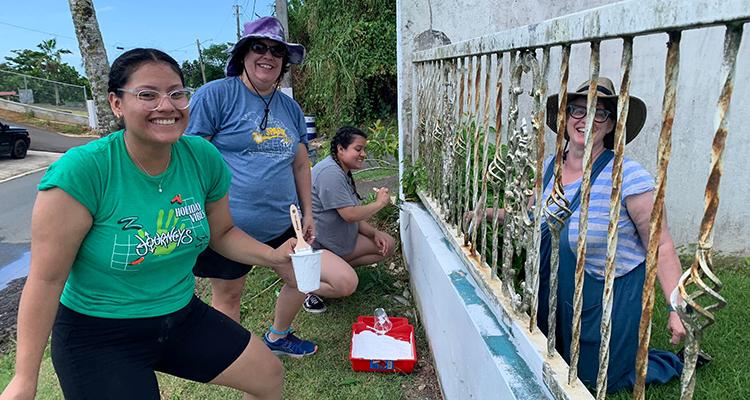 The Western Puerto Rico District held Encuentro 2022 with about 100 Puerto Rico residents and 276 people of all ages from other areas of the United States.
Encuentro is a ministry that provides opportunities for individuals and groups in the USA/Canada region to share the gospel message both in their communities and outside of them through community service.
The event was held from 26-30 June. The team led Vacation Bible School with games and Bible lessons for children, rebuilt a church roof, and mixed and laid cement to repair parking lots and the walls of some churches. At one of the Nazarene academic institutions, the team built ramps for people with special needs.
At the beginning of this missions trip, I was hoping to make a difference in the life of one person, but I didn't expect that person to be me," said Shasta Risner, a member of the Church of the Nazarene in Valparaiso, Indiana. "I have never felt closer to God than I do now, after my experience in Puerto Rico. I am very grateful to each person I met [with whom] I will have a lifelong friendship."
On Friday, July 1, there was a wrap-up service in Hatillo, Puerto Rico, where Jerry Porter, general superintendent emeritus, preached the message of the Word. More than 500 people attended the event.
That afternoon, about 100 young people accepted Jesus as their Savior; among them were Americans and Puerto Ricans.
"We thank God for what he is doing in our youth!" said Alanys Plaza of the district NYI.
"Encuentro 2022 represented a great challenge in times like these. However, when God is in the middle of everything, the fight is worth it," said Marta González, superintendent of the Puerto Rico West District. "Encuentro has fostered an awakening to the mission and unity in the church that marks this generation of Nazarenes to impact others with the love of Jesus and continue His work."
Plaza said that it was a week full of challenges, yet the team saw the hand of the Lord at work every day.
"We are fortunate to be part of such a special church where the Lord allows us to connect with other people," Plaza said. "It was a privilege to serve alongside our American brothers, and we will never forget such a blessed experience."