A legacy of faith: Ecuador church expands thanks to memorial fund
by
| 23 Jun 2022
Image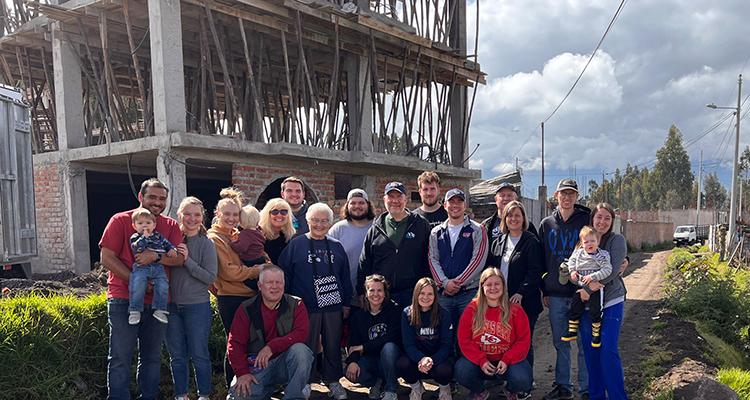 A group of 24 members of the Fischer family visited Ecuador to honor the legacy of former Nazarene, Vern Fischer. They joined members of Iglesia del Nazareno Dios Eterno in Riobamba, Ecuador, in expanding the church's sanctuary.
After Vern Fischer's passing in late 2019, the family collected memorial donations to build a church in Ecuador during a trip sometime in 2020. 
The Iglesia del Nazareno Dios Eterno congregation had been praying for God's provision to help them expand their church. Faithful church members had been contributing to the project with their finances and through volunteering hours of labor. When they heard of the opportunity to partner with the Fischer Memorial Fund, they felt it was God's answer to their prayers.
Due to the pandemic, the trip was postponed several times. Former missionaries Jon and Shirley Fischer (son and daughter-in-law of Vern Fischer) encouraged their family members to try one more time to make the trip happen in June 2022. 
Pastor José María Lara shared his gratitude to members of the Fischer family and the church members who worked tirelessly on their new church building. 
"I thank God for the brothers and sisters who came from far away, especially Vern Fischer's wife, Rosella," Lara said. "I also want to thank the church members who worked for many hours, sometimes until 3 or 6 a.m. doing construction work on this building. May God reward your efforts."
District Superintendent Mario Paredes was also present during the dedication service. He encouraged the church members to continue serving God with passion, especially for the lost. 
"Many people will hear God's message in this church," Paredes said. "Families will be transformed because of the work of this church in this community." 
Vern and Rosella's four children, Scott, Jon, Shawn, and Renae, and grandchildren remember him as a godly man. During a gathering time for the family members, Vern's oldest son, Scott, shared some treasured memories of his father. 
"Choices have consequences," Scott said. "Our parents chose to follow God, make church a priority, and live a godly life, and because of that, we all have enjoyed the blessing of that choice they made."