Kentucky church finds opportunity amid pandemic
by
| 11 Jun 2020
Image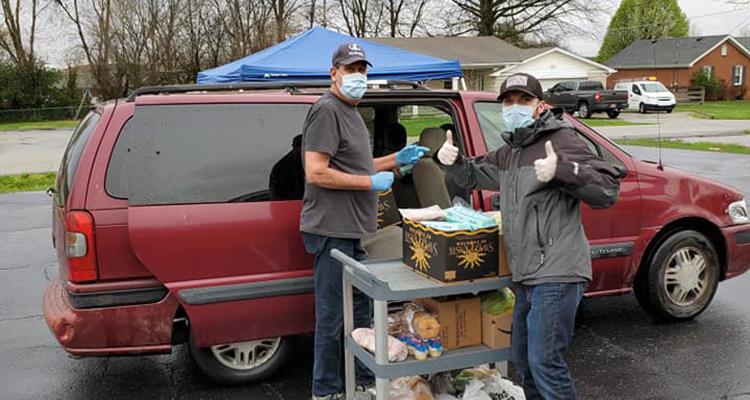 The coronavirus pandemic has impacted communities worldwide in a variety of ways, from physical and mental health to finances and basic necessities. Shepherdsville First Church of the Nazarene in Shepherdsville, Kentucky, saw its community begin to struggle even more and stepped up to meet as many needs as it could.
The church has been running a food pantry on Tuesday nights for two and a half years. The program, in partnership with Feed America, gives two boxes of food to families in need. The ministry served an average of 125 people a week for those two and a half years.
"When the pandemic started back in March, we saw our numbers more than triple, serving 350-400 people a week from our pantry," said Rob Beckett, pastor of Shepherdsville First.
Beckett conducted a small survey to find out why they were seeing such a large increase in requests. He asked, "How does this food help you during this crisis?" and "What would happen if you didn't have this?"
"The responses to it were incredible," Beckett said. "A lot of them answered that without the food, they wouldn't be able to feed their families sufficiently because they've lost their job."
The City of Louisville announced it would give out grant money for COVID-19 relief, and Beckett applied for funds. He used that financial boost to buy a van and start delivering food to people who were unable or uncomfortable leaving the house. 
"There are six churches in our county, and they do the very thing we're doing, but nobody was doing deliveries to folks who can't get out," Beckett said. "People were calling me up and asking me if we deliver because they had no way of getting to the pantry."
Many businesses are beginning to reopen in the Shepherdsville area, and last Sunday was the first in-person church service at Shepherdsville First since March. Two families that received help from the food pantry attended service there for the first time, a trend Beckett hopes to see more of.
Beckett is proud of how much his church has stepped up during the pandemic and said he didn't quite see it as a "crisis."
"If you'd see how our churches responded—the excitement, the enthusiasm, the eagerness to want to help—if somebody would see that, they wouldn't call it a crisis; they would call it an opportunity," Beckett said. "Our folks have recognized, seen, and responded to the opportunity, and it has brought extra energy to the congregation. I've never had it happen before, but now I have to kind of find things for people to do."
"It's a good problem to have," he added.