Guatemala church rebuilds sanctuary in just 32 days
by
| 26 Feb 2021
Image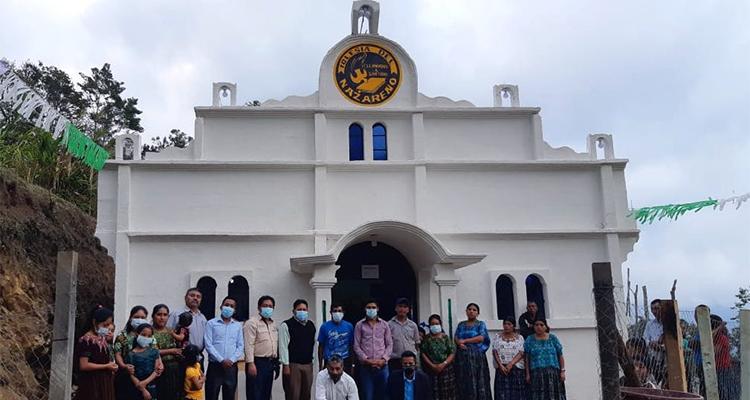 The Iglesia del Nazareno Israel in Tucuru, Guatemala, celebrated the re-opening of its sanctuary on 2 February 2021, a project that took just 32 days to complete.
After the sanctuary and parsonage sustained damage from hurricanes Eta and Iota in November, Pastor Rodrigo Tox and his family were forced to relocate. 
"About 70 percent of the roof was damaged by the storm," Tox said. "The winds destroyed a section of the roof in the church building as well as in the parsonage. The walls on the front of the building were also damaged."
The congregation came together and planned the rebuilding of the sanctuary and the small parsonage with the support of District Superintendent Francisco Cho.
"They started out with great faith and passion, working day and night," Cho said. "The surprising thing is that in just one month they gathered everything, even more than they needed to rebuild, managing to reconstruct the worship center quickly."
He added that women, men, children, and young people all worked in the reconstruction, including some neighbors. 
"The storm came and it damaged the building, the parsonage and many of our brothers and sisters' homes," Tox said. "[Our community] didn't rest or sit on the sidelines. We prayed for the Lord to help us. This work is a testimony of God's power to the people in our community as they have seen how He has helped us. 
On 2 February, the congregation marched together to the property and entered the new worship center singing praises to God. The church received 10 new members in full communion on the same day, and 14 people were baptized.
"We are thankful for many friends and business who helped us," Tox said. "We are thankful for our superintendent, Francisco Cho, who was the first one to show up and helped us to start the work process. We're thankful for those who read the news [of the damage left by the storm] and joined us in prayer. Their prayers worked, and our building has been restored."