Donut workshop connects women in Guatemala
by
| 03 Sep 2021
Image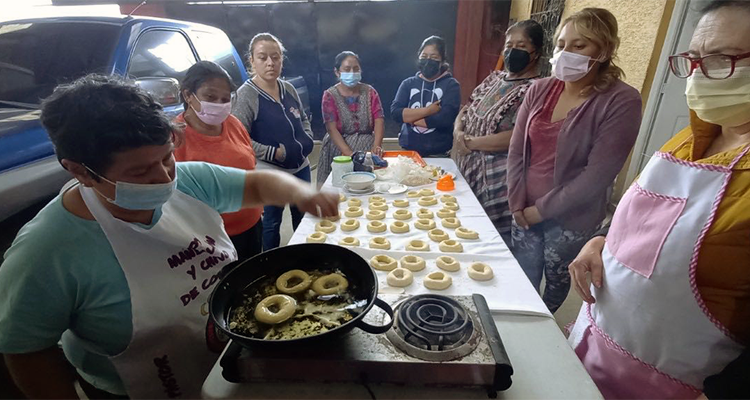 Women in the pioneer area of Pacajá, Guatemala, are learning valuable life skills, becoming financially secure, fostering friendships, and making donuts through a Nazarene-run ministry called Entre Amigas (Between Friends). 
When Diana and her fellow missionaries realized the economic consequences of the COVID-19 pandemic on the women and their families, the missionaries brainstormed ways to ease the effects of financial hardships on the community.
"We wanted for women to have a place to be heard, where they could feel they are heard because they don't have the chance to go out and chat with their friends. We wanted them to have an hour of just talking and fellowship," said missionary Diana Gonzalez. "It started as the missionaries talking, and then turned to more conversation, and then ultimately an economic opportunity."
They decided to modify the Entre Amigas meetings, alternating conversational sessions with workshops where women could learn marketable skills. Some of the lessons offered were custom jewelry-making, crochet, and sewing, but the most popular so far has been a lesson on donuts. 
"That one was a favorite because they were able to pick up the skills quickly and easily," said Diana. "The week after the workshop, some of the attendees had already begun to produce, sell, and promote their homemade donuts." 
Entre Amigas has seen a lot of success since January, and even more since April as the workshops started picking up. A group of eight to 10 women has been regularly attending, but the number can grow up to 15 during the practical lessons. Attending the workshops is enabling the women to develop skills that allow them to become entrepreneurs as well as making a small percentage of income to support themselves and their families. 
"Anything that they can produce is money that they can bring in, and that is freedom, and that makes them feel like they have opportunities," Diana said. "Those opportunities can then lead to other opportunities."
Diana is excited for the future of the ministry and hopes to pass it on to the women in the group soon. The presence of Entre Amigas will help establish a community that will bring people into the church and raise up local leadership in the congregation. 
Additionally, the workshops are collaborating with Nazarene churches in the area as volunteers from other locations are willing to share their marketable skills, like the Second Church of the Nazarene of Quetzaltenango did with donuts. 
"The point of these workshops is for [each woman] to feel like [her] own person," Diana said. 
In the process, the workshops have opened opportunities and communal interactions for the women.